Mick Reeves 1/6 Scale Spitfire build.
Supermarine Spitfire MK IXc MK923

For many people the Spitfire in all it's different variants is seen as a British icon, and will continue to do so for many years I'm sue.
I have, for my first scale build, decided to have a go at the variant that for most people is the Spitfire at it's peak of development before it began to loose the general Michel design concept. The MK IX is the thoroughbred at it's very best, and took part in many theatres of War around the world.


My model is based on MK923 5J-Z of 126 Squadron, summer 1944 just after the D-Day invasion 6th June 1944 .
MK923 is currently not airworthy and on display in the Seattle museum of flight.
Click the links below to see the relevant section.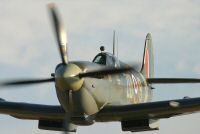 ©2004-2009 Nigel Wagstaff
Copyright © . FlightlineGraphics.com &nbsp& All rights reserved.